o_O I've won an award. SQUEE! I've still not been told if it's chocolate or if I can eat it yet, but I remain hopeful. big sloppy kissies to my PIC
sparklybearsy
(via the lovely
Parajunkee
) for giving it to me *evil grin* the award I mean =D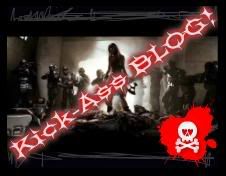 The rules of this award are as follows:
Pass it on to 5 blogs you think are kick ass and explain why. Here are my choices:
Fiction Vixen
whose name I, for some unknown reason, always seem to typo as Fixion Vixen =P I've no idea why. I love her cheeky reading pinup & dammit, reading IS sexy. she totally cracks me up. plus, I think she wants to touch me....what do you mean no? her latest blog says....oh, well never mind then. ;)
katiebabs
witty, snarky AND she's a red-head. color me happy ;) her WTFckery posts have me down right howling laughing, don't read them while eating or drinking. never mind how I know this.
Kris
her phobia treatment is the fucking deal. for reals. mouthwatering pics, deliciously amusing, fabulous quotes AND has food on her page. there is no bad here.
Leontine
for lovely comprehensive reviews, yummy delicious shirtless menz AND the hunk of the week. if only those unbutton pants were just one measly inch lower *AHEM*
Cecile
who wouldn't love a blog that proclaims itself to be Hussy Heaven & has Sex On a Stick men? plus it took me 10 mins to peel myself away from the hot man-candy on her page =P