ATTENTION: this will not be your typical review. #1-I'm not a typical girl #2-I'm not a pro blogger like some of the girls I follow. this will be a heartfelt gushfest over Lover Mine by JR Ward. there will be swooning, squealing panties & general squeeing over how much I absolutely love this book and will be marrying it in Vegas in the immediate future. so if you desire something beyond my squishy-headed ramblings, I hereby direct you to these lovely ladies:
Mandi at Smexybooks
Fiction Vixen
katiebabs
also BEWARE OF SPOILERS!! if you have not read the book, please don't spoil it for yourself. you will love it so much more if it is a surprise, I promise you.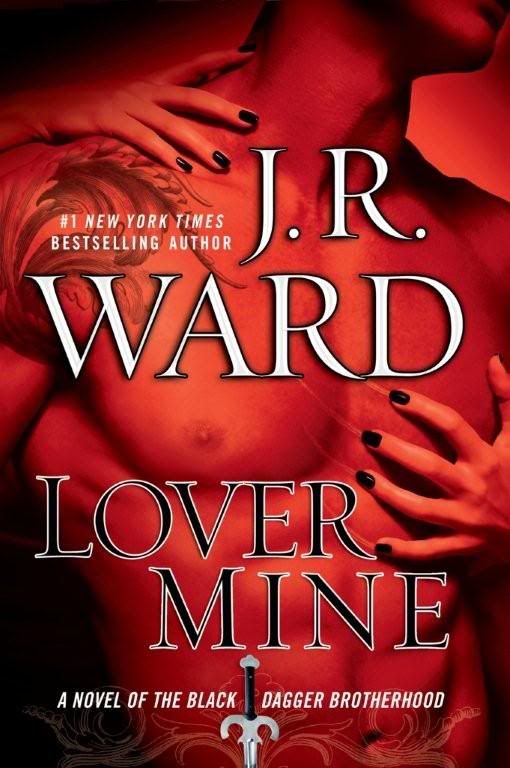 oh John Matthew, I am more in love with you than ever and I would never have thought that possible. yeah, just had to throw that out there.
Oh my aching heart moments
:
so many of these in general with this book. a lot from John Matthew and Xhex but a ton from Blay and Qhuinn had me bawling like a baby. this was definitely a book to have a box of tissues on hand for, one just won't cut it...unless of course you have no soul, but that's a personal issue, I'm sure.
John Matthew: 'the sob that breached his throat actually made a sound.'
Xhex: the whole time she was stuck with Lash was basically pure heartbreak for me
John Matthew signing into Xhex's palm 'L.O.V.E.U.4.E.V.E.R.'
Blay (to Qhuinn): '"I love you," Blay whispered so quietly that the sound of the rushing water drowned out the words.' (Qhuinn never hears this)
Qhuinn: 'sure as shit felt like he'd been shot in the heart.'
Qhuinn (thinking): 'I miss you. I miss you so fucking bad it hurts, but I don't know how to find you even though you're right in front of me.'
Qhuinn again: 'because of course, "take care of you" was what Qhuinn always said when he was letting someone go.'
OWWWWWWWW, my heart hurts *sniffle*
holy screaming panties moments
:
John Matthew and Xhex getting down, holy holy shit it is red hot, burning, need a carton of cigarettes, go stick your head in the freezer HOT.
page 305 where John Matthew licks his fingers! *WHEEZE*
Qhuinn has a tongue ring *DROOL* as if I wasn't totally hot for him already with those nipple rings of his.
Qhuay kissage, although brief. RAWR. in the book, Blay thinks to himself that Qhuinn is 'sex in every breath, every beat, every move.' ummm yeah, nuff said.
anybody have a lighter? *bats lashes in Vishous' direction*
rambling, gush-filled summary
:
Lover Mine was so much more than I expected. I was hopeful, of course, but also very nervous after Lover Avenged which I liked but was a difficult read, IMO as well as being light on the romance. thank all the gods that Ward returned to the romance in this book in a big BIG way. the story could not have been done justice otherwise. one of the reasons I love her books so much is her ability to combine the action & the romance so they mesh perfectly.
as to the comments of others regarding this book, the ghost thing was meh & minor compared to my complete satisfaction with the rest of it. I love the Brothers, their slang & fancy product whore ways are just part of them to me. I liked that we got to see the other Brothers & while I would have liked to see more of them, I felt happy with what we were given (except some V action with his table wouldn't have been remiss IMO) *AHEM* s'all I'm sayin'.
Lash, you got better than you deserved, you cocksucking rat bastard.
other things that made me happy
:
Lassiter crying at JM & Xhex's mating
it being acknowledged that Butch is V's
the whole mating scene in general-- JM & Tohr getting right with each other, Xhex wearing Wellsie's dress, finding out No'One is her mother, John Matthew signing to Xhex 'come to me. come down to me, my female.' *tears & swooning*
my heart is so full from this book. the anguish and the joy, the pain and heartbreak, but most of all, the love. JR Ward does John Matthew and Xhex's lover superbly in Lover Mine. I couldn't have asked for anything more....
my favorite quote from the book
:
John Matthew (mouthing to Xhex):
'
I would hold you up. I will ever hold you up and hold you dear, lover mine.
'
I am now sniffling again. pass the Kleenex.
not much was talked about in the way of set up for Payne and Manny's book which is up next but perhaps a bit of foreshadowing for the future here in the last lines of the book?
'Fate was not easy...but it got things right. Eventually, everything that came to pass was exactly how it was meant to be.'
I adore this book, I have no doubt it will end up being the best of the year for me. it is absolutely the best in the Black Dagger Brotherhood series. to have grown with John Matthew from the scared, skinny boy he was when we first see him to the strong, proud, wonderfully kind male of worth he is now has been a journey that has completely overwhelmed my heart. I couldn't love him more. it has been a very long time for me since a book gave me such a feeling of joy and happiness. I am so thankful for that.
thus endth my swoony gushing ramble. hopefully it didn't have too many of you reaching of a barf bag but if it did...I DON'T CARE =D cause this is all about MY love for Lover Mine.
just in case you haven't had enough gushing, head over to my PIC
Sparkly Bearsy's
Lover Mine review

smoochies and love
Jay